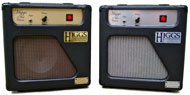 Higgs Engineering & Studio Research, a division of Higgs Communications, has produced several prototype guitar amplifiers for client's use at the Winter NAMM Show. For 2012, we built two amps especially for use on the Lipe Guitars booth (#1018).
Get the definitive guide to selling your music in the iTunes Music Store and earning income from music downloads.
If you're looking to place your music in the iTunes Music Store, this is a good place to start.


- EQ Magazine
Our FREE online guide shows you how to earn extra income by creating special "affiliate" links on your web site.
You'll get paid a commission everytime someone clicking from your web site buys music or an app.
"Be civil to all; sociable to many; familiar with few; friend to one; enemy to none." - Benjamin Franklin