Over the years, Higgs Engineering & Studio Research, a division of Higgs Communications, has produced several prototype guitar amplifiers for client use. These two amps were built specifically for use by Lipe Guitars in their booth (#1018) at the 2012 Winter NAMM Show. If you've ever been to the NAMM Show, you'll understand the problem of getting great guitar sounds (at low volumes) without getting shut down by the noise police. So we came up with two classic sounding amps that only put out 5W.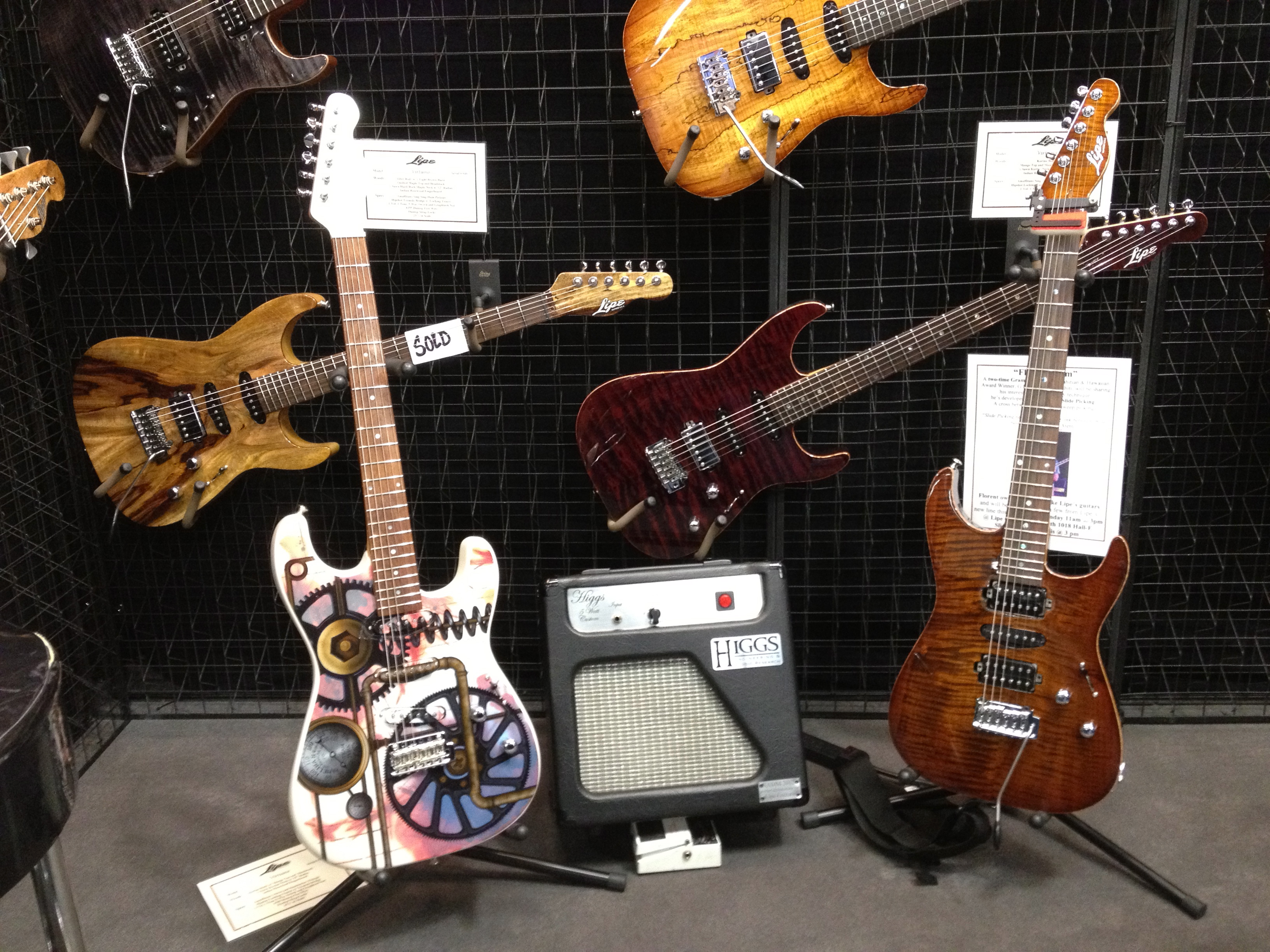 One of the main requirements of any guitar amplifier is to produce good tone. The other requirement, was that they avoid the wrath of the noise police (the NAMM staff wandering around the booths with db meters). So we produced two low-wattage "boutique" amplifiers, to meet those requirements, that were hand-wired with vintage-style point-to-point circuitry.
Both amplifiers have the 1957 Fender 5E1 Champ as their heritage. But that's where their similarities end. The 5W Custom Silver is the closest, retaining the negative feedback, although it is voiced more closely after the Bassman. The 5W Custom Gold is voiced after Marshall's higher gain 18 Watt Bluesbreaker amplifier. Neither amp were given tone controls, as this was considered unnecessary.
Specifications for 2012 Winter NAMM Show
5W Custom Silver
 
 
Output: 5W (Class A)   
Tubes: Power - EL84, Pre-amp - ECC83   
Panel controls: On/Off, Volume   
Output transformer: Hammond 125DSE   
Speaker outputs: 4Ω, 8Ω, 16Ω   
Speaker: Jensen Vintage Alnico P8R 4Ω   
Input jack: Switchcraft   
Speaker jacks: Cliff   
Other: Sozo coupling capacitors, carbon comp, metal & carbon film resistors.   
Price as configured: $1,084.00
 
List price:  
Combo: $995.00   
Head: $945.00
 
Options:  
Eminence Lady Luck Speaker - No additional cost   
Jensen Vintage Ceramic C8R Speaker - add $49.00   
Jensen Vintage Alnico P8R Speaker - add $89.00   
Mercury Magnetics Transformer Set - add $299.00
5W Custom Gold
 
 
Output: 5 Watts (Class A)   
Tubes: Power - EL84, Pre-amp - ECC83   
Panel controls: On/Off, Volume   
Output transformer: Hammond 125DSE   
Speaker outputs: 4Ω, 8Ω, 16Ω   
Speaker: Jensen Vintage Ceramic C8R 4Ω   
Input jack: Switchcraft   
Speaker jacks: Cliff   
Other: Sozo coupling capacitors, vintage Mallory capacitors, and carbon comp, metal & carbon film resistors.   
Price as configured: $1,044.00
 
List price:  
Combo: $995.00   
Head: $945.00
 
Options:  
Eminence Lady Luck Speaker - No additional cost   
Jensen Vintage Ceramic C8R Speaker - add $49.00   
Jensen Vintage Alnico P8R Speaker - add $89.00   
Mercury Magnetics Transformer Set - add $299.00